News From Here How to Order Web Only SpecialsFor Resellers Only Web Links About Us Contact
About Us
We're a Christian family of ten – Dad, Mom, and eight children. The difference in age from our oldest to youngest is 19 years. We have homeschooled each of our children throughout their school years, and we love the closeness and blessing that it has brought to all of us. In 1992, the Lord moved us to this farm in northern Wisconsin, and we have so enjoyed learning and growing together here. We also have 14 grandchildren, and that number changes about every year.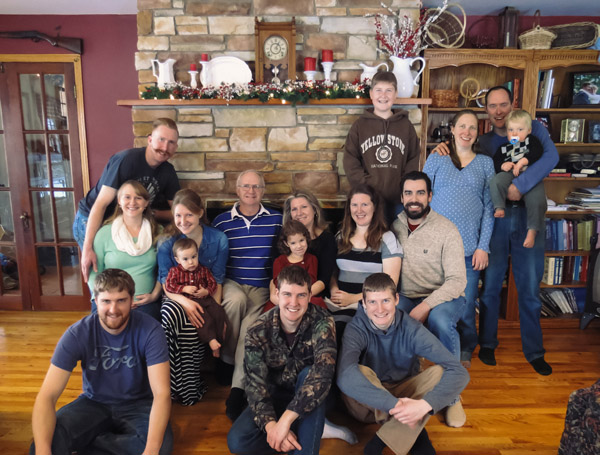 Here's a picture of our family, taken at Christmas in 2015. If you're very observant, you may notice that three of our family are expecting babies before long! Right now we have 10 grandchildren. God has been very good to us.
We hope all is well with all of you, and that you are growing in Jesus. May this find you serving Him with all your heart, mind, and soul.
The Farm
Our farm

is a major part of our lives. We have had a variety of animals over the years, and currently own a herd of cattle, chickens, a dog, and a couple of barn cats.
Whether we're

making hay, working in the gardens, butchering meat, or moving cases of books, we work together as much as possible. We love each other in spite of all our faults, and we love being the Castleberry family.
Why Did We Begin Writing Books?
Our family

has always enjoyed good books, and we especially enjoy reading together as a family in the evenings. Over the past few years, that evening reading has become "evening reading only during the colder months" – the number of animals and the responsibilities that go with them have grown so much. Like many other Christian families we know, we have had difficulty in finding enough good reading material. We have a desire for books that can be read to the entire family, with no questionable topics or language. But other than a limited number of older books, where were they to be found?
Steve is a

marketing professor at the University of Minnesota at Duluth, about a 35 minute commute from our farm. We had never dreamed we would someday write books – it wasn't even in our minds. Until we met Robin Berglund, a neighbor and good friend. He taught us how to do some of the things we now do – and then he gave us the idea for writing about our experiences. We were a little hesitant, but also excited. And as we began to remember what we had done in those first few years here, and then to write about what we had learned, we had fun. Lots of fun. Talking over ideas for chapters, re-living our experiences, and reading the stories aloud to the children as we wrote them was another thing we could enjoy together as a family. And so we wrote our first book, Our Homestead Story. The response was so encouraging that we began writing more books as the Lord provided the time and ideas. We currently have a number of books in print, and will continue to write as long as the Lord leads us to do so.
We hope that you will find encouragement and pleasure in our books, and that they may help you in some way to live a life that is pleasing to our Lord Jesus Christ. To Him be all glory forever!